Hot DJ Derrick Wray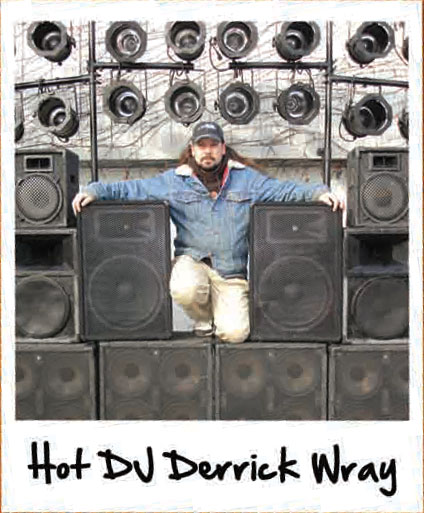 QUALIFICATIONS, EXPERIENCE AND ACHIEVEMENTS

2009 & 2010 saw another huge Sound and Lighting surge as we added Digital Mixing Boards, Laptops, External Hard Drives, Bass and Mid/High Speaker Cabinets as well as Amplifiers, Crossovers, EQ's, Microphones & Cables! We have completed The All Martin Light Show (Martin Lighting is the best in the industry!) and we added our new "Green" Light Show! Yes, we now have an All L.E.D. Dancefloor Light Show which uses about 1/10th the power of traditional lighting! We have also added a 575W Followspot and more Par Can Lighting as well as the Dimmers and Controllers to run them. We are also working on DMX/Intelligent Light Shows now!

January 2010 – HOT DJ Derrick Wray is now in partnership with JUSTINE THOMAS of local radio fame! Justine will now do much of the emceeing and help coordinate the activities at many of Derrick's private shows as well as some public appearances!

January 2010 – HOT DJ Derrick Wray is also now in a partnership with the EASTWOOD EXPO CENTER to provide Sound & Lighting for events both public & private @ the Expo Center!

June 2009 through December 2009 to – HOT DJ Derrick Wray hosted Karaoke @ the newly Expanded TOP NOTCH Restaurant in the Eastwood Mall (next to the main entrance). The parties started @ 9 and went to midnight each Friday night!

January 2009 to June 2010 – HOT DJ Derrick Wray became the House DJ @ Milo's Lounge "On the Strip, in Niles"! We did the DJ work Friday & Saturdays 10-2! We still handled Faces Lounge, though I usually had one of my other DJ's run the show there.

2008 saw the rise of our computer-based DJ systems! Yes, we now run most of our shows through PC's & Laptops. We always have a CD back-up (just in case…)

April 2008 – HOT DJ Derrick Wray became the House DJ @ FACES LOUNGE in Newton Falls, Ohio! So come on out to Broad St. and enjoy the horn sound system along with the VIDEOS! I helped improve their light show as well!

2007 was spent improving & increasing our sound systems and light shows as well as expanding our network of industry professionals. Our hopes are that this will result in doing much larger shows for many more people and events!

Saturday May 20th, 2006, I received my Bachelor's of Arts & Sciences degree! My first round of resumes will go off to record companies. But of course if you know of a good place where I can start my new career, please let me know! hotdjdwray@hotmail.com

Tuesday, August 20th 2005, I received my A.A.S. Degree in "Information Technology"! Now when I finally get my DJ Computer filled with my vast music library, I will probably be the only DJ around using a computer who has a degree in Computers!!

Sunday, June 26th through Wednesday, June 29th, 2005, I attended the "Mobile Beat" DJ Convention, this one was in Niagara Falls. I learned a little more about running the business and made a couple of potentially good contacts to help me do it. Thanks to all of those who have supported me in my endeavors and dreams!

May 20th, 2005 – How many DJ's can say that they've been on TV?!

* HOT DJ Derrick Wray performed for the WFMJ Today Wedding! – Congratulations to the lucky couple Jeff & Lindsey Wolfe!

October 2004 – We began our affiliation with "MakesParties"! You will see the link to "Our Party Store" on every page. This virtual store is your best place to find party favors, glowsticks, and all the accessories and fixin's for your theme party!

September 2004 – We became a member of the "American Disc Jockey Association". The ADJA is the top national organization for Professional Mobile Disc Jockeys. We are one of ONLY 2 DJ's in the local area who are members!

Monday August 30th 2004 thru Thursday September 2nd 2004 I attended the DJ Times DJ Convention in Atlantic City! As good as I am, I learned even more about crowd interaction, production, music, equipment, and lights. I hope and expect to incorporate some of these ideas into my shows and company ever strengthening my status as the best Disc Jockey Service in the region!

Saturday, May 15th 2004, I received my A.A.S. Degree in Criminal Justice! This degree is an emphasis on Loss Prevention and Asset Control, which should correlate well to my current studies in computer networking and network security. It also reinforces my experience as an Air Force Security Specialist back in the 80′s.

July 2003 to Sept. 2006 – HOT DJ Derrick Wray was the House DJ at Red's Lounge.

In 2003 we completed the work on our new *Killer* Horn Sound System. We have also revamped our Light Shows to once again include a Small Light Show, as well as a Band Light Show (which we used at the Newton Falls 4th of July Festival with great success!). Now that this is finished, there is not a DJ ANYPLACE who can compare to our sound and light shows!

Also in 2002, our largest crowd to date…I doubt that many DJ's have played for nearly 50,000 people, well, WE HAVE! The Newton Falls 4th of July Festival was a rousing success! We were asked back for 2003, and once again had a great crowd and lots of fun (which made all the hard work worthwhile!).

2002 saw the Grande Opening of "The Finish Line" Dance Club at Papa Louie's Motocross Cafe. This bar now comes complete with a basic light show (which I helped them configure) and a stage for regional bands to perform on!

2001 was focused on developing the aura at Papa Louie's Motocross Cafe in Brookfield, Ohio.

January 24th, 2001 – I received an Ohio Class A CDL. Now, if I ever decide to do huge shows for national acts, I can drive the rig myself!

We made our presence known on the World Wide Web in the Spring of 2000 with the domain www.blazingentertainment.com.

My e-mail address is: hotdjdwray@hotmail.com.

1999 was highlighted by working in the P.A. room at Cafaro Field for the Mahoning Valley Scrappers Professional Minor League Baseball Team during their inaugural season here in Niles, Ohio.

Joined the Youngstown-Warren Regional Chamber of Commerce in 1998. – www.regionalchamber.com

1997 also saw our 2nd major equipment upgrade which included even better speakers, amplifiers, mixers, equalizers, microphones, and players as well as bigger, better, and brighter Dance Floor Lighting!

Hired salespeople in 1997 to help cover the region of Northeast Ohio and Western Pennsylvania.

Added Karaoke to the personal system in 1996. This service was called ATSUI KARAOKE (Atsui is the Japanese word for Hot, as Karaoke is also a Japanese term meaning "to sing to music without words").

1995 was also our first year at the Trumbull County Fair. We have been there EVERY year since with our spectacular DJ show and sound systems as well as our engaging Karaoke show! Sadly, that run ended in 2007 when the current fair president decided that the Trumbull County Fair no longer needs great entertainment.

Worked as an On-Air Board Operator at the Public Radio Station WYSU 88.5 FM at Youngstown State University in 1995. I also received my Lifetime FCC License in 1995!

Expanded into a full service entertainment agency in 1995 offering Bands, Karaoke, Clowns, Costumed Characters, Magicians, Belly Dancers, Male & Female Exotic Dancers, Soloists and Dance Floor Lighting. This was named BLAZING ENTERTAINMENT in keeping with the HOT DJ concept. This has since been discontinued due to a lack of interest in the area.

HOT DJ Derrick Wray became a member of the Better Business Bureau in 1995.

1993 also saw our first major equipment upgrade with the help of "Rockin' Rick" Kustelega. This after only one year in business and two years of working as a Professional Mobile Disc Jockey!

Started subcontracting other professional Disc Jockeys in 1993.

Moved back to Warren, Ohio and started HOT DJ Disc Jockey Service in January of 1992.

Performed in bars and at private functions in Columbus, Ohio in 1991.

Professionally trained in Radio and Television Broadcasting at the American School of Broadcasting in Columbus, Ohio in 1991.